Read all about the amazing experience our clinical lead, Suzy Brooker, had when she worked as a Physio at the 2022 Commonwealth Games:
"I was based at the athlete's village at Warwick University. This housed athletes competing in rugby sevens, judo, wrestling, triathlon and lawn bowls. The latter obviously being the most likely to keep me busy!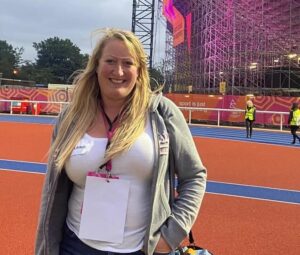 After my first night in a student flat, where the kitchen was a health hazard with cheese was still in the fridge 7 months out of date. I found my way to the university site and made it through the airport style security and into the village. A sea of bright orange and blue uniforms everywhere. After walking miles to get to the polyclinic (my home for the week) I was faced with a day of unpacking. The clinic was still in a state of chaos and the day was spent unwrapping pillows and unboxing tape. Multiple tea breaks were taken as there were so many of us giving a chance to network and meet other members of the team.
The medical facilities at games is astounding. We had an x-ray, ultrasound and MRI scanner all with a few metres of each other. These are accessible to all athletes and coaching staff/team members. I was also amazed by the other facilities offered to the teams. Particularly those on smaller islands with little healthcare. Athletes and team members could access dentists, optometrists, chiropractors, sports massage therapists, as well as medics and physios.
By day two the athletes had started to arrive, and the patients began to drift in. The first being a lawn bowls official, who had tripped on her suitcase and hurt her foot. I was fortunate enough to go out to the training facility for the rugby sevens which meant a coach ride with the Scottish ladies team and a few hours watching them train. One of my fondest memories of the games was sitting on the coach whilst the girls were doing "Dirty Dancing" lifts and serenading each other to High School Musical songs.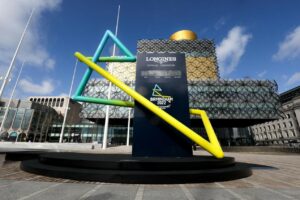 Most of my games was spent at the rugby training ground, with large medical bags in case extra support was needed. All teams had their own physios so we were there as backup. It was an excellent time to chat with coaches and physios from all over the world including Australia, Fiji and South Africa. I spent the most time with the South African men's team who were such a lovely team of players and staff. They went on to win the games in the final and it was amazing to see players who I felt were friends score try's and get a gold.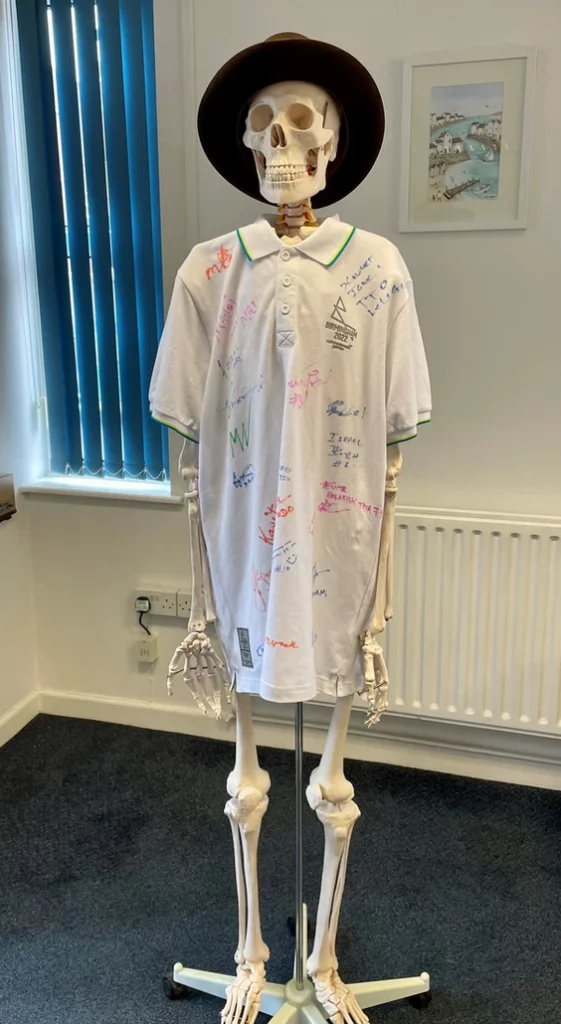 Signed shirt on display in Hope Physiotherapy Clinic waiting room in Lee-On-The-Solent.
The icing on the cake to my experience is that I was able to take part as a pretend athlete in the dress rehearsal for the opening ceremony. After many hours of standing and waiting and a heavy rain shower, I was chosen along with another volunteer called Peter (my now friend for life) to be the flag bearer for England on our parade into Victoria Stadium. I can only say this was the most amazing experience walking into the stadium to a 5000 crowd waving England flag with a long line of people behind me to music and cheers. It might not have been the real thing but an experience not may can say they have done in their life.
Overall, I had the most incredible time, treated some amazing athletes and just met so many great people, athletes, coaches, physios and other volunteers. I've even made lifelong friends. I can see why people volunteer for games again and again. Can't wait till the next time it comes to England".